Healthy Fish and Chips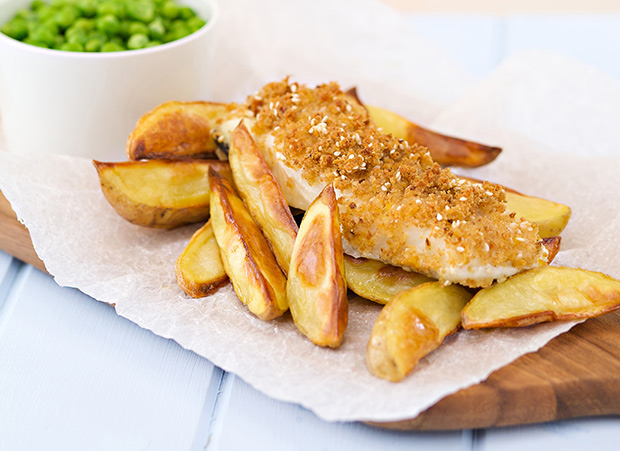 Recipe info
Cost: £1.30 / PERSON
Serves: 4
Ease: ***
Prep Time: 20 mins
Cook Time: 35 mins
Ingredients
4 large potatoes, cut into wedges
1 tablespoon oil
520g pack of frozen white fish (defrosted), or 4 white fish steaks
3 slices wholemeal bread, made into breadcrumbs
1 tablespoon sesame seeds
grated rind of a lemon
30g melted butter (measure using packet)
1 egg, beaten
salt and pepper
2 mugs frozen peas
Preheat the oven to 180ºC fan oven/200ºC/gas 6.
Place the potatoes on a baking tray. Sprinkle with oil, salt and pepper. Mix everything together and stand the wedges on their skins, this helps them not to stick to the tray. Place in the oven for 35 minutes.
Meanwhile, mix together the breadcrumbs, melted butter, lemon zest, sesame seeds, salt and pepper.
Put the beaten eggs onto a plate and coat each piece of fish with the egg. Dip them into the breadcrumb mix. Place on another baking tray and place in the oven for 20 minutes. The breadcrumbs should be nicely browned. If you are using thicker fish steaks, you will need to leave them in the oven for 25 minutes.
add your comment or request a recipe: