Sugar-Free Gluten-Free Tuna Fish Cakes with Yoghurt Sauce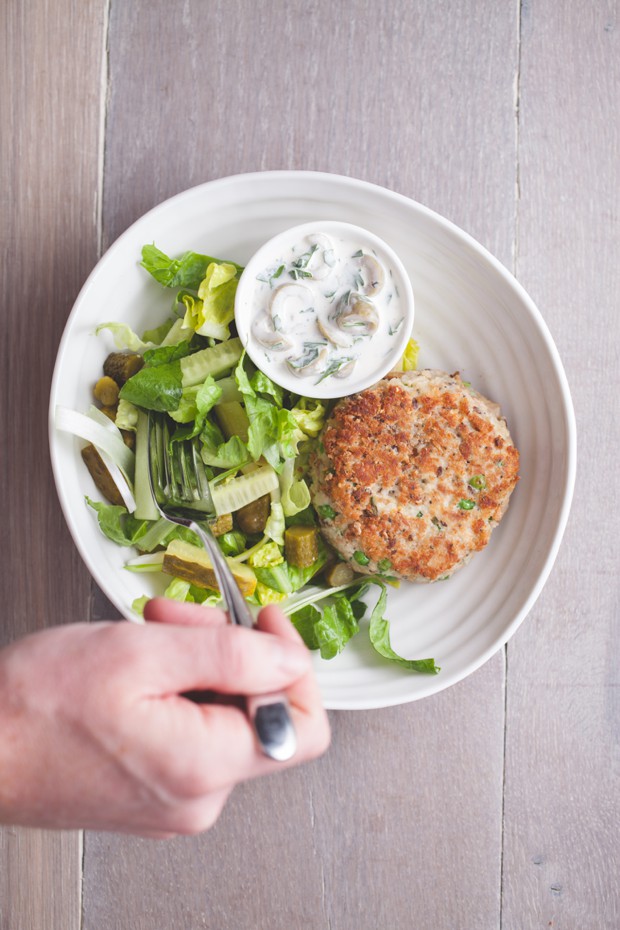 Recipe info
Cost: -
Serves: 4
Ease: 4/5
Prep Time: 25
Cook Time: -
Ingredients
Yoghurt sauce
2 tablespoons Greek yoghurt
6 capers, chopped
2 tablespoons mayo, see page ??
juice of 1/2 lemon
2 tablespoons freshly chopped parsley
15 green olives, chopped
salt and pepper
Fish Cakes
2 large potatoes, peeled and cut into 3cm chunks
50g butter, measure using packet
1 mug frozen peas, defrosted
2 tins tuna
1 teaspoon dried chives
1 egg yolk
2 eggs, beaten
4 slices gluten-free bread, made into breadcrumbs
salad
6 pickled cucumbers, sliced,
1/2 cucumber, sliced,
1 romaine lettuce, sliced
6 spring onions, sliced
Mix together the sauce ingredients.
Place the potatoes in a pan of boiling water and simmer for 10 minutes. Drain and return to the pan.
Add the butter and peas and mash.
Add the tuna, chives, egg yolk, season with salt and pepper and mix well.
Turn the mixture out onto a board and divide into 8. Form them into cakes. Put the beaten eggs in a bowl and the breadcrumbs in another bowl. Dip the fish cakes in the egg and then into the breadcrumbs.
Heat about 2 tablespoons of olive oil in a large frying pan and then add the fish cakes. Cook on a medium heat until browned on both sides.
Serve with salad and the sauce.
add your comment or request a recipe: