Sugar-Free Gluten-Free Pork with Rice and Beans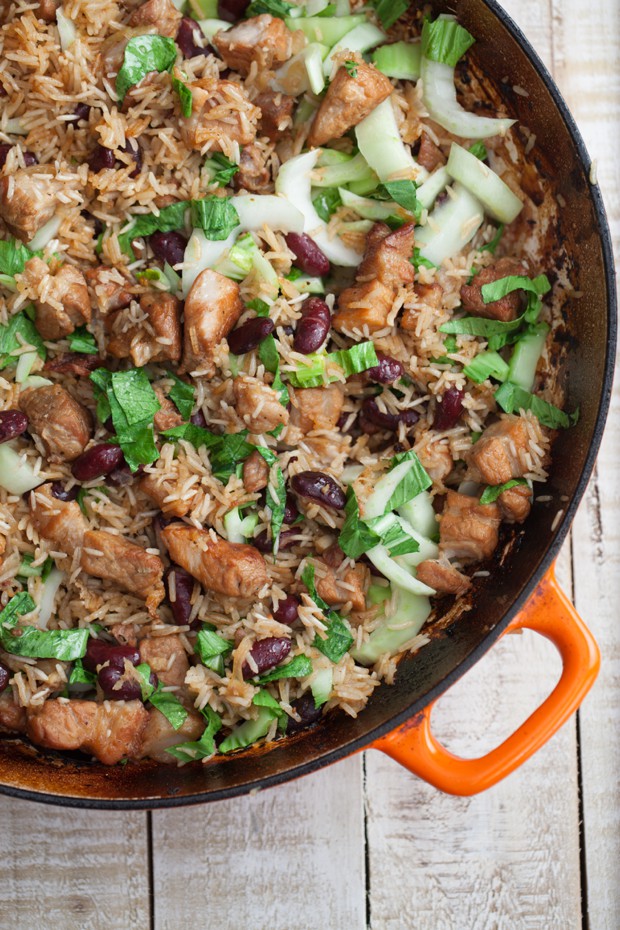 Recipe info
Cost: --
Serves: 4
Ease: 2/5
Prep Time: 15 Minutes
Cook Time: 90 Minutes
Ingredients
1 tablespoon olive oil
1kg belly pork, fat and skin removed and cut into bite-sized pieces
2 tablespoons freshly grated ginger
2 teaspoons honey
2 cloves garlic, finely chopped
1 onion, sliced
2 tablespoons mirin
2 tablespoons GF/sugar-free soy sauce
1 1/2 mugs water
400g can kidney beans, drained
1 mug basmati rice
2 pak choi, sliced
Preheat the oven to 160ºC fan oven/180ºC/gas 4.
Heat the oil in a large hob to oven casserole dish, add the pork and fry until it begins to brown.
Add the ginger, honey, garlic and onion and fry for 2-3 minutes, until the onion begins to soften.
Add the mirin, soy, water and beans and bring to the boil. Season well with salt and pepper.
Place in the oven for 1 1/2 hours. Take out of the oven and stir in the rice. Put back in the oven for a further 30 minutes.
Take out of the oven. Sprinkle the pak choi over the top and then repalce the lid.
Leave for 2 minutes and then stir in the pak choi.
add your comment or request a recipe: