Smartie Oatty Cookies Recipe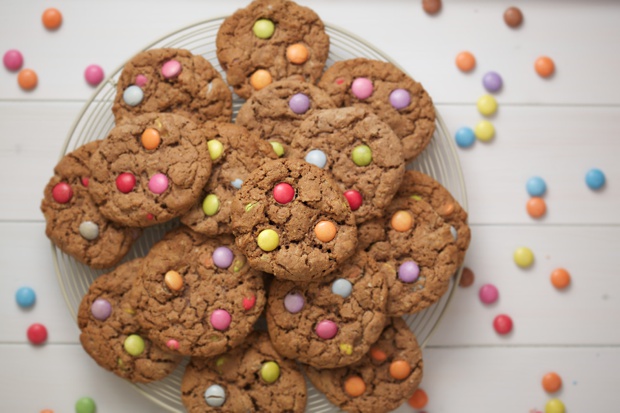 Recipe info
Cost: 24p each
Serves: 18 cookies
Ease: **
Prep Time: 15 Minutes
Cook Time: 12 Minutes
Ingredients
125g softened butter, measure using packet
1 mug/210g soft brown sugar
1 teaspoon vanilla extract
1 egg
1 mug/170g self raising flour
150g pack smarties
1/2 mug oats
1 tablespoon cocoa
+ smarties to decorate and make it look pretty...if you haven't eaten the rest while cooking.
You really need a cake tin to store these in once they are cooked or they may not last for a day. Ours managed to spread over two days as our resident, infamous chocoholic was absent the day they were made.
Preheat the oven to 180ºC fan oven/200ºC/gas 6. Grease 2 baking trays.
Beat the butter and sugar together. Add the vanilla extract and the egg, beat well.
Add the flour, smarties, oats and cocoa. Mix to a stiff dough.
Roll into a 30cm sausage and cut into about 24 cookies. Place on the baking trays. Leave space between them as they spread out. Press a few smarties in each to decorate.
Place in the oven for 12 minutes. The cookies should be crisp on the outside and a little chewy on the inside.
add your comment or request a recipe: