Gluten-free sugar-free Warm Potato Salad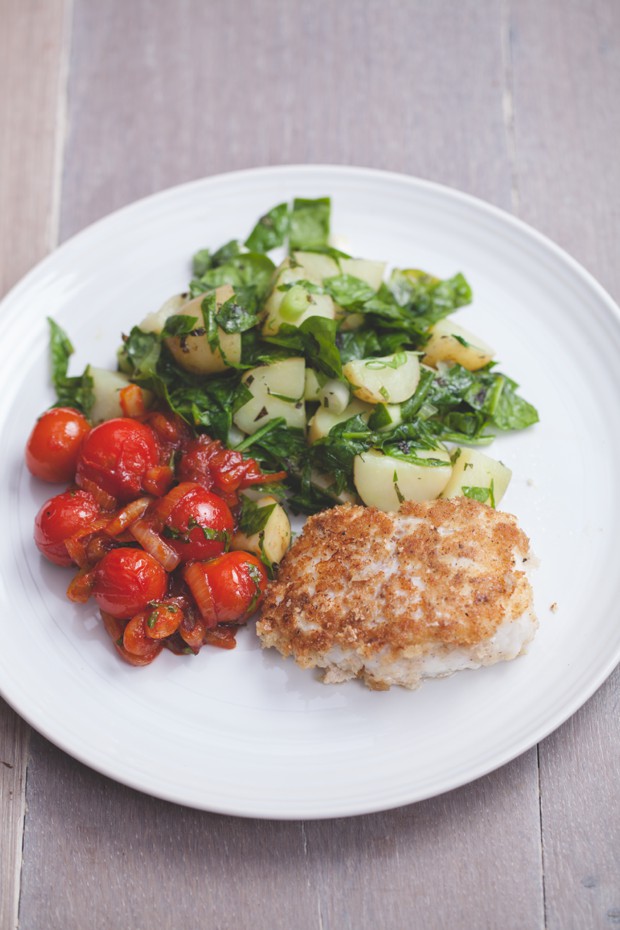 Recipe info
Cost: -
Serves: 4
Ease: 4/5
Prep Time: 30 Minutes
Cook Time: --
Ingredients
500g new potatoes, cut into bite-sized pieces
25g butter, measure using packet
100g spinach, roughly chopped
4 spring onions, chopped
2 tablespoons freshly chopped mint
Tomato Chutney
1 tablespoon olive oil
200g cherry tomatoes
2 tablespoons freshly chopped basil
1 large onion, sliced
2 tablespoons tomato purée
2 tablespoons raw honey
2 tablespoons apple cider vinegar
1 tablespoon olive oil
4 cod steaks
1 egg, beaten
2 slices GF bread, made into breadcrumbs
Put the potatoes in a pan of boiling water and simmer for 10 minutes.
Drain and return to the pan with the butter and stir around untill it melts. Add the spinach, spring onions and mint and gently stir. Set to one side until needed.
Meanwhile, to make the chutney, heat the oil in a medium frying pan. Add the onions and fry until they begin to brown.
Add the tomatoes and fry for 1 minute.
Add the rest of the chutney ingredients and heat through, don't overcook the tomatoes. Season well with salt and pepper.
Dip each piece of fish in the beaten egg and then in the breadcrumbs. Season well.
Heat the oil in a frying pan and fry the fish for 2 minutes each side or until nicely browned and cooked through.
Serve with the potato salad and chutney.
add your comment or request a recipe: